Whatever obstacles your child may have in their path, your love and care for them know no limits. So when you research therapy options for your child, you want to have a thorough understanding of your options and how your child stands to benefit.
Two excellent therapies for children, especially those with autism spectrum disorder (ASD) or developmental delays, are applied behavioral analysis (ABA) therapy and occupational therapy (OT). Learn more about the differences, similarities and benefits of ABA therapy and OT for your child.
What Is ABA Therapy?
ABA therapy is a holistic therapy that prioritizes behavioral analysis with applied learning. It is commonly used to help kids with ASD but can also help with other developmental delays and disorders. ABA therapy can be done at home, in the community or at school for up to 40 hours per week. The familiar environment fosters rapport between your child and the therapist.
In practice, ABA therapy looks a lot like play for kids. Thus, this type of therapy is considered a play-based approach. The play-based model allows a natural way for children to share their thoughts and feelings. In turn, therapists can recognize and address their behavior more quickly.
The exercises involved in ABA therapy include free play and structured play. They encourage social skills, independence, emotional intelligence and various functional skills. When children take part in ABA therapy, they learn to express and articulate themselves in constructive ways. The interactions and problem-solving opportunities prepare them for real-world scenarios.
As your child works through various exercises and responds to their environment, a therapist observes their emotional responses and behavioral patterns. The therapist's observations allow insight into your child's struggles and the contributing environmental factors. With this insight, they can determine the best ways of modifying those factors to help your child learn and gain skills without hindrance.
In this way, ABA therapy provides a safe environment for children with ASD to:
Explore their emotions.
Learn new coping strategies.
Develop social skills.
Enhance language skills.
Strengthen their fine motor skills.
Redirect inappropriate behaviors.
What Is Occupational Therapy?
Occupational therapy helps children with developmental delays acquire or regain skills needed to thrive throughout childhood and beyond. The goal of OT is to help children find independence in every area of their life. To help them discover that independence, occupational therapists evaluate the barriers in your child's life that prevent them from achieving it. Once they identify those barriers, they look for ways to help your child overcome them.
Those barriers may involve such areas as:
Fine motor skills for grasping and releasing toys or developing typing and handwriting skills
Hand-eye coordination for playing sports, games or copying notes down from a whiteboard
Essential life skills like bathing, getting dressed, brushing your teeth and other self-care habits
Sensory and emotional processing skills for managing frustration and anger in positive ways
To promote development in those areas, occupational therapists use several resources, including the following:
If your child experiences challenges with fine motor or essential life skills, their therapist may implement special equipment to increase their independence and functional mobility.
They may use learning games and play-based approaches to work with instead of against children's interest levels.
They can teach your child coping strategies, feeding techniques and other skills to help them thrive throughout childhood, adolescence and into adulthood.
Similarities of ABA and Occupational Therapy
On a general level, both ABA and occupational therapy help children with ASD or developmental delays. There are also some similarities in the goals and approaches of these therapeutic models, such as:
Both help children develop essential skills and behaviors that foster independence.
Both aim to help kids overcome obstacles that hinder their learning and communication skills.
Both incorporate a play-based approach to help kids develop social, functional and emotional skills.
Both prioritize successful outcomes and individualized treatment over theory and formulaic approaches.
Both holistically analyze all factors that contribute to diagnosis and treatment.
Both help children reach well-defined goals by breaking them up into smaller tasks.
Differences of ABA and Occupational Therapy
Picking out the differences between ABA and occupational therapy can be tricky, as they have many similarities. Thus, ABA and occupational therapy often work well together. However, there are some important differences between ABA and occupational therapy.
Time requirement: ABA therapy is more time-intensive than occupational therapy. Whereas occupational therapy is often done two to three times per week for up to 30 minutes, ABA can be done up to 40 hours per week. As such, OT focuses more on teaching parents how to reinforce the skills learned during therapy.
Behaviors vs. skills: ABA focuses on meaningful behaviors, while OT addresses skills needed to function in everyday life. ABA uses a more systematic and evaluative model to identify socially meaningful behaviors for your child. In contrast, OT focuses on helping children develop specific skills.
Treatment plans: ABA develops more specialized treatment plans than OT. While both therapies develop individualized treatment plans, ABA therapy is typically more specialized.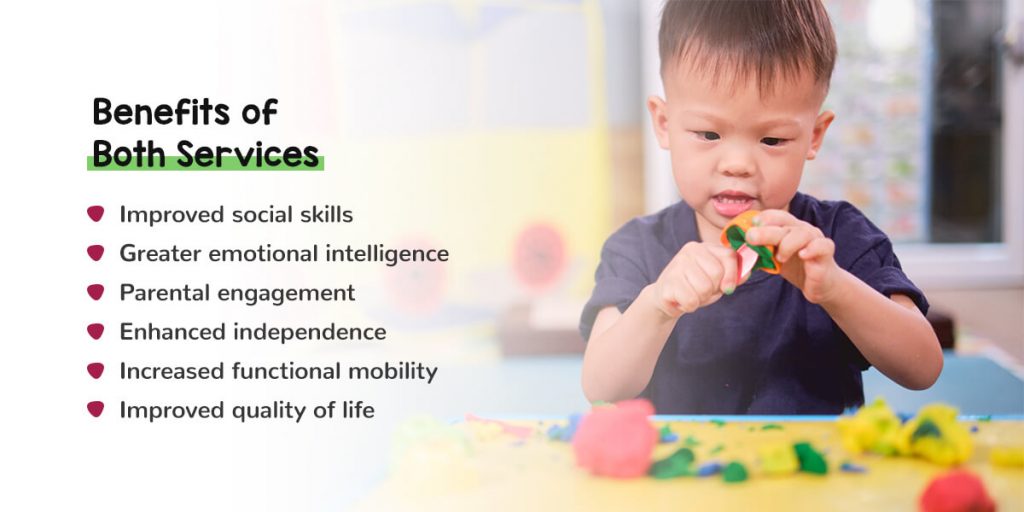 Benefits of Both Services
ABA and occupational therapy provide considerable benefits to children dealing with ASD or developmental delays, as well as their parents! Furthermore, the benefits increase when you combine the specific skill development of OT with the behavioral focus of ABA. On their own, they can still benefit your child in many ways. Here are some of the ways that ABA therapy and OT can benefit your child:
Improved social skills: Without professional guidance and support, children with ASD or developmental delays often struggle in social settings. This difficulty can impact their ability to make friends and interact with peers. ABA and OT can give your child tangible skills for social interaction and remove obstacles to their ability to thrive socially, which is vital for every child.
Greater emotional intelligence: Your child will be given many opportunities to work through and understand their emotions with ABA and occupational therapy. Their therapist will also teach them healthy coping mechanisms that work for them so they can process negative emotions in constructive ways. The resulting emotional intelligence will further enhance their social skills.
Parental engagement: ABA and occupational therapy offer plenty of opportunities for parents to be involved with their child's treatment plan. The increased parental engagement with ABA and OT helps parents feel empowered and a part of their child's development. Being involved with your child's therapy will provide a safe and intimate experience for them.
Enhanced independence: ABA and OT prioritize your child's independence in every aspect of therapy — from therapy goals to practice exercises.
Increased functional mobility: Whether your child requires specialized equipment for completing daily tasks or developing strong hand-eye coordination skills, ABA and OT will give your child tools to move around and engage with their surroundings with independence and confidence.
Improved quality of life: ABA and OT can help your child acquire skills and improvements to improve the quality of multiple aspects of their life, helping them experience the childhood they deserve.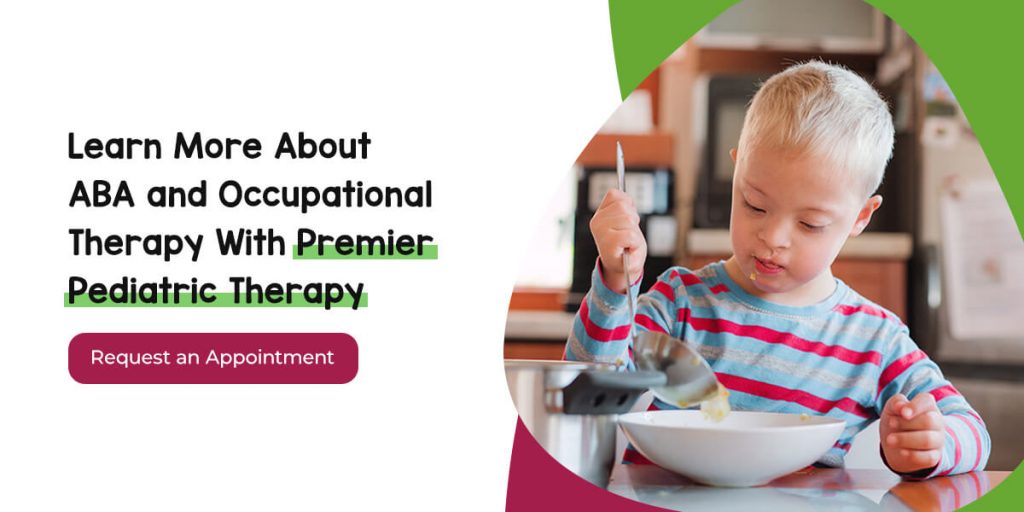 Learn More About ABA and Occupational Therapy With Premier Pediatric Therapy
Finding the right therapy for your child is important, and we would love to help you in any we can at Premier Pediatric Therapy. As our child behavioral therapists specialize in ABA and occupational therapy, we can answer other questions you have about these excellent therapy options. If you are looking for in-home comprehensive therapy in Texas, we would be happy to provide your child with ABA or occupational therapy. Contact us today to learn more or request an appointment!