Occupational Therapy for Kids in Texas
Activities fill up most of your child's day. They range from eating and sleeping to walking, playing and interacting with friends. These activities, or occupations, are often overlooked as they are regular parts of life. However, when you begin to see your child struggle, it may be time to seek help. 
At Premier Pediatric Therapy, we want your children to live life to the fullest and have fun with their daily activities. We can help your child succeed through comprehensive occupational therapy services to help them acquire or regain the skills needed to carry out daily occupations.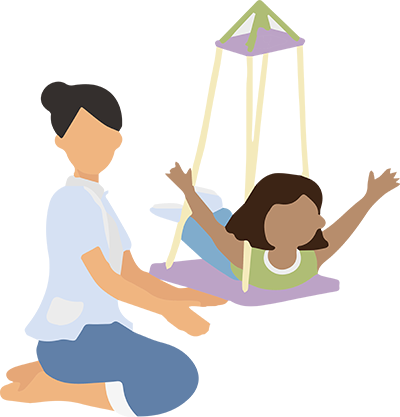 Common Areas We Can Address With Occupational Therapy
Our compassionate occupational therapists (OTs) work with children who have difficulties with cognitive functions, movement and coordination to help them achieve their highest level of independence. The OTs analyze children's restrictions and work to refine motor skills, expand their interaction and communication skills and educate the child on self-care habits.
Other areas OTs focus on include:
Fine Motor Skills.
Hand-Eye Coordination.
Sensory Processing.
Activities of Daily Living.
Auditory Processing Integration.
Play Skills.
Who Benefits From Occupational Therapy?
The early years of a child's life are essential to developing good habits and necessary life skills. For some, that task is more difficult. Occupational therapy strives to help individuals aged from birth to 21 develop their ability to live healthy and independent lives.
Often, the children have been diagnosed with conditions that contribute to mental, physical, developmental or emotional delays. Our OTs work with
individuals with a wide range of mental and physical challenges, including:
Autism Spectrum Disorder.
Cerebral Palsy.
Down Syndrome.
Sensory Processing Disorders.
Injuries and Physical Disability.

In-Home Occupational Therapy Services Throughout Texas
We understand that every child is unique and deserves a tailored treatment plan to meet their needs. At Premier Pediatric Therapy, we perform a custom evaluation during our initial meeting to understand your child more. From there, we will develop a personalized plan that caters to any area your child may need help with.
Pediatric occupational therapy aims to help develop the necessary skills to improve your child's daily life and help them achieve their goals. There's no better place to do this than in the safety of your own home, which can help your child feel comfortable during their treatments.
We offer full in-home services and provide treatments such as:
Activities of daily living (ADL) training.
Developmental play therapy.
Development of fine motor skills.
Feeding therapy.
Kinesio taping.
Handwriting development.
Neuro-development treatment.
Whether they need improvement with their communication skills, walking, writing their name, using the bathroom, or brushing their teeth, our specialists can create an effective treatment plan to help them grow in a familiar environment surrounded by friendly faces.
Request Care With Premier Pediatric Therapy
As the premier choice in Texas, our experienced OTs are committed to providing your child with high-quality, personalized care to help them build the skills they need to live a happy and healthy life.
Contact us today to request occupational therapy services for your child or learn more about how we can help.