The goal of occupational therapy (OT) is to allow children to have the childhood they deserve by acquiring or regaining the skills needed to perform the activities, or occupations, of daily life. OT improves self-help skills and adaptive behavior for individuals with developmental delays.
Occupational therapists (OTs) focus their treatments on providing children who have difficulties with cognitive functions, movement, and coordination with the tools they need to grow into their highest level of independence. They analyze and treat their patients' restrictions and help them develop interaction/communication skills, refine motor skills, and educate on self-care abilities (especially for older children).
If a patient is too young to understand verbal instructions, OTs often incorporate games into the therapy sessions. This helps to engage their interest and cooperation.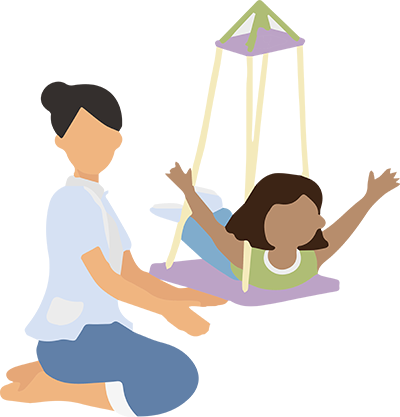 OT Focus Areas & Common Treatments
Fine motor skills
Hand-eye coordination
Sensory processing
Activities of daily living (i.e. bathing, dressing, toileting, and feeding)
Play
Auditory processing integration
Activities of daily living (ADL) training
Development of fine motor skills
Developmental play therapy
Feeding therapy
Handwriting development
Kinesio taping
Neuro-development treatment