Pediatric ABA Therapy in Texas
Premier Pediatric Therapy is part of the Kids SPOT Family of Companies, a collection of pediatric therapy practices that cover a range of services including speech, physical, occupational and applied behavior analysis therapy (ABA).
Pediatric ABA therapy refers to a specific type of therapy that encourages better communication and helps children develop the skills they need for better interpersonal experiences. It uses positive reinforcement to discourage harmful behaviors and teaches new behaviors to take their place.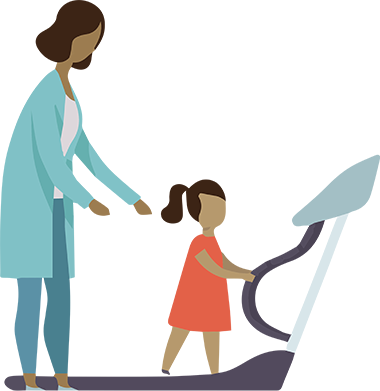 The Benefits of ABA Therapy for Kids in Texas
ABA therapy is most commonly recognized as a treatment for individuals with an autism spectrum disorder. It's also proven to be helpful in cases of:
Down syndrome
Pervasive developmental disorder
Oppositional disorder (ODD)
Other developmental delays
One of the main benefits of ABA therapy is that it is family-focused. Along with teaching the child skills, our  ABA therapists will work with parents, guardians, siblings and any other loved ones involved in the day-to-day care of the child. The approach is highly specialized to each child's specific needs and the needs of their family.
While participating in ABA therapy, your child will be encouraged to reach their full potential by broadening their horizons. You, your family and your child's therapist will work together to create a support system wherein your child can feel empowered to thrive. Over time, we'll collect data through experiences and focus on the areas where your child needs the most assistance. In many cases, ABA therapy has proven effective in minimizing developmental gaps and preparing children to face the next stage in life.
Common Areas We Focus On
Our ABA pediatric therapy is play-based. This model helps kids feel like their therapy is more like a game than traditional treatment. When kids play, they're more open to communication and sometimes able to offer more information than they could otherwise. As a result, our Texas therapists can recognize and address the child's behavior more easily.
Our therapists can work with your child to learn:
Early functional skills like using the bathroom, getting dressed and writing
To become more independent
To establish friendships and develop relationships
Positive coping skills to improve behavioral challenges
How to prepare for other real-world scenarios like getting a haircut or buying groceries
In-Home ABA Services
We understand that getting familiar with new surroundings takes time for some kids. It can take a while for them to become comfortable enough to play and for ABA therapy to be effective. That's why we offer the option of in-home ABA services. We'll come to your child's home, school or another comfortable place and complete treatment there. A familiar environment can allow the therapist to build a rapport with your child faster.
Expediting the treatment process is just one of the benefits afforded by in-home services. Being at home enables naturalistic teaching, where the child can practice scenarios in environments where they already experience challenges. Here, the therapist can help step by step as the child navigates communicating with new people, preparing lunch for themselves or staying focused on homework.
Schedule an Appointment Today
However your child needs ABA therapy, Premier Pediatric Therapy is here to work with you. We know your child is unique and deserves support customized to their needs. That's why we strive to provide the most personalized treatment options in the area.
Our child behavioral therapists and ABA therapy services are available throughout the major areas in Texas and everywhere in between, including Houston, San Antonio and Austin. Reach out to us today so your child can get on the path to treatment as soon as possible.